Systems and IT Solutions
From software development to manufacturing and CAD solutions,
we are expanding the possibilities of
the manufacturing industry through IT.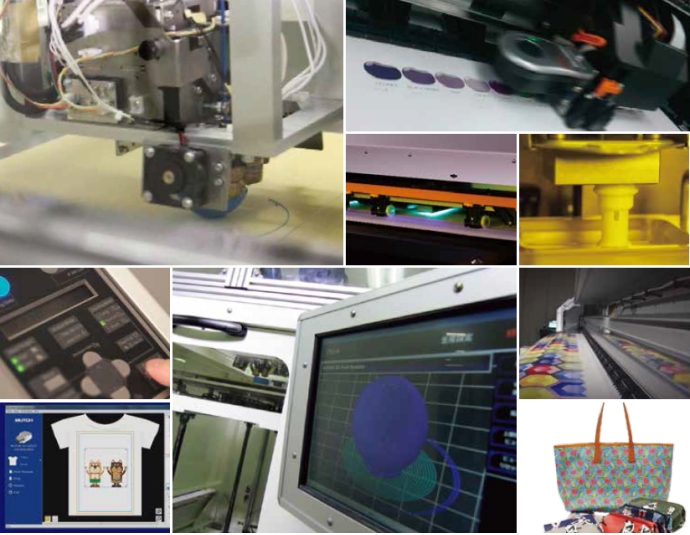 MUTOH's IT technologies are utilized in resolving management issues in businesses, and even in areas that affect our everyday lives, such as social infrastructure.
System proposals and software are made possible through the know-how that we garnered with our support of the "MONOZUKURI" field. MUTOH's know-how developed through systems of design, manufacture, and information management has been incorporated in the MUTOH product lineup as an optimal system for customer needs.
MUTOH's system/IT solutions business is the source for the competitive strength for MUTOH as a company that supports "MONOZUKURI".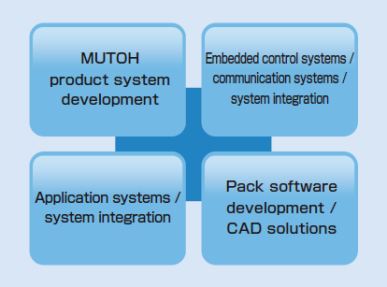 Contributing to manufacturing that prioritizes the needs in the field.MUTOH ITEX
Product system development
MUTOH has a history of supporting "MONOZUKURI". Through those years, our knowledge was put to use in building the control systems and application software for large-format inkjet printers and 3D printers, making MUTOH's products unique. MUTOH's system/IT solution business acts as the force in the background for product creation that prioritizes the field needs through our strong development backbone that we built with our "MONOZUKURI" history. We continue to produce unique MUTOH products that have garnered high praise from customers around the world.
Proposing and creating optimal systems for customers.MUTOH ITEX
Application systems and system integration
In the field of "MONOZUKURI", there are various needs for achieving a speedy, low-cost production. Rationalizing and economizing design and manufacturing is a must, and managing CAD drawing data, sharing information within departments, and building a production management system that form the supply chain is needed as well. MUTOH can provide a more rational and efficient business environment by standing in the viewpoint of the field with business processing and web application development, such as production management, customer management, and business processing.
MUTOH can answer various needs from the field.
Development capabilities that support the needs of customers.MUTOH ITEX
Embedded control systems, communication systems, and system integration
Digital devices have become more and more advanced in both business and personal use.
MUTOH provides design and development of the core systems for those devices. With our deep knowledge, and the integration of the latest technology and various services, we have provided a high quality system and easy-to-use solutions. MUTOH has garnered high praise for its functionality, rationality, and ease of use.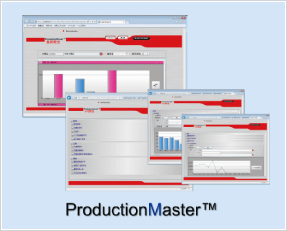 Creating more creative business environments.MUTOH INDUSTRIES
CAD solutions
Drafters have transformed design work. MUTOH's CAD solutions utilize that work efficiency spirit, and designers' experience developed over the years.
The CAD package has been well received as a software that can provide the optimal designing environment with a d rafter like feel. It continues to support our users through product expansion from 2D to 3D. You can expect a short lead-time at a low cost with MUTOH's CAD package. It also has good operability, and will result in an efficient designing flow.
MUTOH can contribute to building the designing environment with its high cost-effectiveness.