Design and Measurement Devices

Design and Measurement Devices
MUTOH's drafters are top of the line for manual drafting equipment.
We provide strong backup for design work that is responsive to the ideas of designers.
MUTOH INDUSTRIES
Drawing and Design
Drafters and parallel rulers act as the arms, hands, and fingers of the designers, allowing them to draw exactly as intended.
With the spread of CAD systems, drafters and parallel rulers nearly disappeared from the design field, but have been gaining attention again as a tool to cultivate the sensibility and basic skills of designers.
MUTOH supports all designers who are particular about their drawings, and value their own sensibility and inspiration.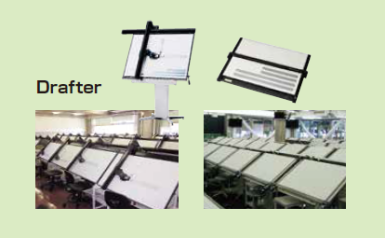 We support measurement and control needs through high precision with
linear encoders, digital counters, and rotary encoders.
MUTOH INDUSTRIES
Measurement and Control Devices
The Digicolor series supports measurement and processing control needs for industrial machines and equipment such as production machinery and measurement equipment. This lineup, consisting of products such as rotary encoders, unique wire linear encoders, and high-resolution linear scales, has a broad range of functions including detection, display, and control.
The Digicolor series strongly supports automation and labor savings in production with extremely high accuracy, performance, and efficiency.