Large-Format Inkjet Printers

Large-Format Inkjet Printers
We support manufacturing needs in the field that
range from signs and displays to textiles and CAD plotters.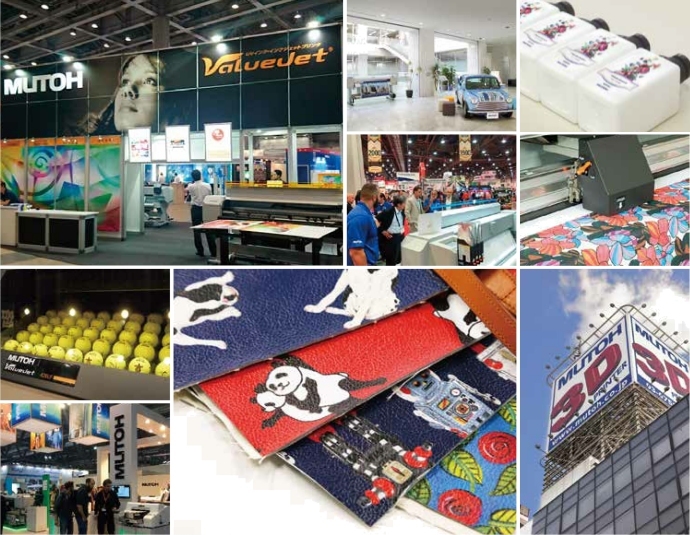 Large-format inkjet printers have been evolving from "printing machines" to "production machines". It continues to be used as machines to print posters and signs, but is now heavily used in the textile field and the industrial field, printing on a wide range of products from silk, polyester, plastic, and glass. Since releasing Japan's first printer for out-of-home advertisements, MUTOH has created numerous original "smart printing" technology, represented best by our "DropMaster" ink discharge control technology that enables high-definition printing through its printing technologies and know-how that have we a chieved through many years of research. We are constantly providing trust, and technology one step ahead.
MUTOH's large-format inkjet printers always answer the user needs, and provide new values.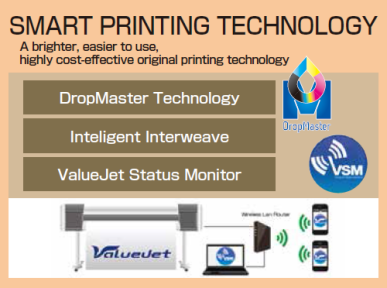 Achieving high quality and high productivity.MUTOH INDUSTRIES
Signs and displays
Answering needs is essential for catching business opportunities.
MUTOH can resolve all these issues.
The ValueJet series for signs and displays supports high-capacity ink packs that improve productivity. By doing so, it achieves a low-cost, high-speed image generation. Furthermore, abundant image creation effects improve the image quality, and by attaining the variable dot feature that supports three types of dot diameters, it supports a high quality image generation of various media types.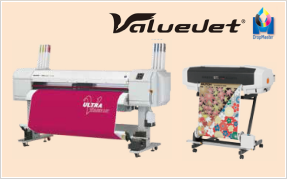 Supporting a wide range of business opportunitiesMUTOH INDUSTRIES
Textiles and soft signs
Answering needs is essential for catching business opportunities.
With its support for various media, the ValueJet series for textiles can be used in different textile business fields from fashion/sports apparel to home fabrics. It provides support for sublimation transfer ink and direct sublimation ink.
MUTOH has the answer with high quality, and a high cost-effectiveness.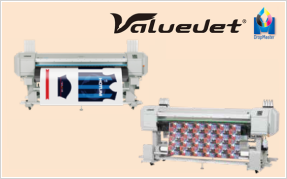 Creating new areas of business.MUTOH INDUSTRIES
Industrial printing
Large format inkjet printers are evolving from 'printing' machines into 'production' machine.
The demands for printing on a wide range of materials like plastic, cardboard and glass are increasing.
Our industrial series printers have solutions for a variety of needs, either using multipurpose inks for any type of material, to using quick drying, friction resistant UV inks. Even for media not suitable for printing with solvent ink, or media with flat surfaces, or objects up to 150mm thick, Mutoh expands your range of business.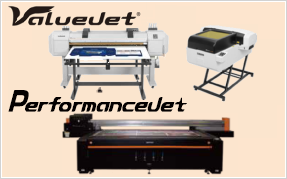 Supporting even higher quality drawing creationMUTOH INDUSTRIES
CAD inkjet plotter
Working out a design is crucial in "MONOZUKURI". MUTOH has been greatly involved the designing field with drafters, CAD systems, and pen plotters. MUTOH's CAD inkjet plotter DraftStation series produce high-quality image creation ranging from construction perspective drawings, 3D CAD drawings, and photo image fill-ins.
By fulfilling the designers' need of "faster, more beautiful, and easier," we can provide a higher quality drawing.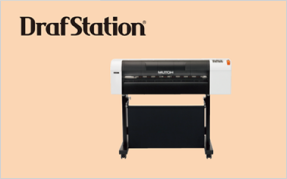 Speedy and Beautiful Cutting.MUTOH INDUSTRIES
Cutting Plotter
Provides high quality and low price, with Japan's first long-segment cut technology, and its ease of use.