3D Printers ( Additive Manufacturing )
We support manufacturing creation needs that
range from desktop to professional and production.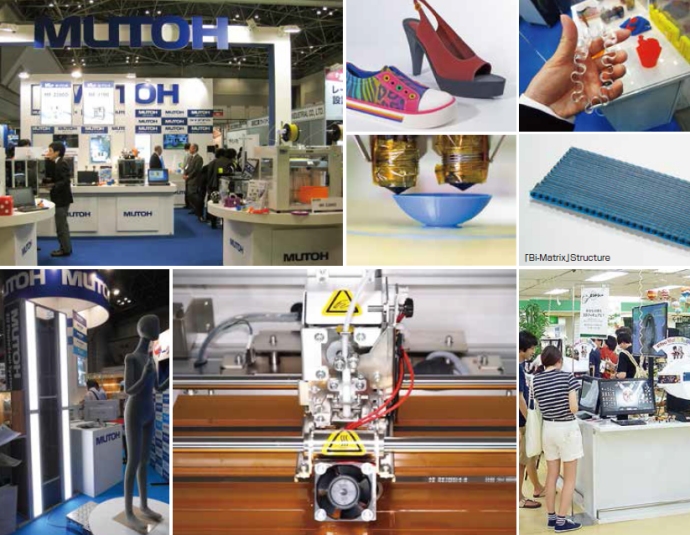 3D printers are on the verge of transforming into a "revolutionary manufacturing tool". In addition to being an equipment for the streamlining of the design-to-prototype process, it can achieve the ultimate high-mix, low-volume production.
MUTOH's lineup covers all fields, consisting of the desktop models that transforms ideas in to forms, the professional models that enable high-precision molding, and the production models that delivers high cost-effectiveness. In addition, we have products and services ready in the 3D printing field in general from hardware to solutions, including a 3D photo scanning system and a 3D printing service.
MUTOH supports our customer need in "One Stop".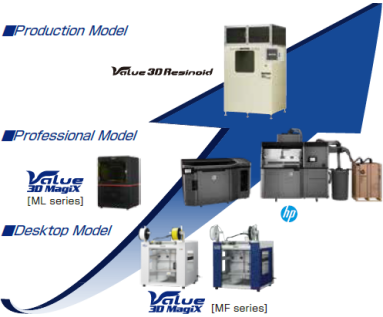 Giving form to ideaMUTOH INDUSTRIES
Desktop model
Immediately bringing your ideas to life. MUTOH's fused filament fabrication(FFF) desktop models can answer those needs for the industrial designers and artists.
With its high accuracy, high resolution, and lineups that cover engineering plastics, MUTOH's desktop 3D printers goes beyond the field of desktops. There is full Japanese support for software, manual, customer support, etc. We provide a secure and reliable domestic 3D printer.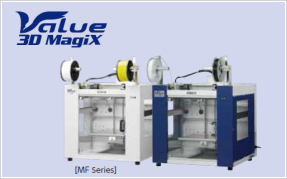 Faster and more beautifulMUTOH INDUSTRIES
Professional model
Molding professionals have strong needs for top level print speed and productivity. MUTOH's lineup includes full-color plaster powder type (3D Systems, Inc.) that is popular amongst prototyping and figure printing, photopolymer types, and thermosetting type (HP Inc.). We answer various needs.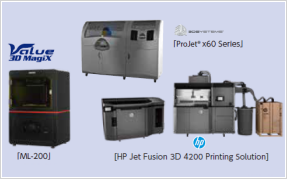 Delivers high cost performanceMUTOH INDUSTRIES
Production model
The product model can achieve the ultimate high-mix, low-volume production, becoming a "revolutionary manufacturing tool".
MUTOH's lineup consists of FFF model large-format 3D printers that support engineering plastic output and enable the world's first "Bi-Matrix" structure creation. This is made possible by its large scale modeling of up to 500mm square, and loading an AC servomotor for high speed printing.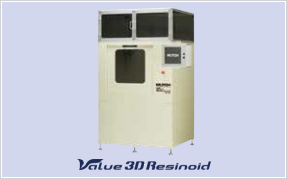 We provide proposals for solutions in line with the needs of users.MUTOH INDUSTRIES
3D print service
Wanting to enjoy 3D figures with more familiarity.
Wanting to use 3D printing more closely with your business. MUTOH can answer those needs with its 3D solution service. Our 3D print service answer the need for architectural models for housing presentations and prototypes of machine parts can improve the quality of your business, and organic replicas for medical use. With a full-body, high-speed scanning system, we also provide familiar full-body figures from the 3D photo gallery that you can create and apply costumes and hairstyles of your choice.
MUTOH is expanding its business through 3D solutions, and providing the excitement of 3D printing to a wide audience.