Message from the President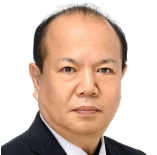 Yasuhiko Isobe

MUTOH HOLDINGS CO., LTD.
President and Representative Director
MUTOH is a corporate group that devotes in consistently creating new values, and providing "comfort" and "trust".
Drafters, CAD system, pen plotters, inkjet printers, and 3D printers.
MUTOH has been walking down the path of "MONOZUKURI" support. Every object that has a form can be rendered graphically. Our company philosophy of continuing to support "MONOZUKURI" has not changed.
In our major area of business, large-format inkjet printers, the ValueJet printers have garnered numerous awards such as the "Product of the Year Award" at worldwide exhibitions. MUTOH's technological capability and its products with our original smart printing technology represented by the "DropMaster" technology, have received acclaim from our customers from all over the world.
MUTOH will further strengthen and expand on digital printing, and will continue to support customer needs with a "One Stop" system from production to sales and from supplies to maintenance service. With our core company MUTOH INDUSTRIES LTD. as our driving force, we are expanding on our global strategy through our subsidiaries located in Europe, America, and the Oceania regions.
The 3D printing field has a strong growth potential, and we have been expanding in the area with our know-how we fostered over many years of development and production. Products and the service only MUTOH can provide with our knowledge of "MONOZUKURI" has brought a pleasant surprise for our customers. Much like the large-format inkjet printer business, we are one the few companies that can support our customer needs with a "One Stop" system. MUTOH is walking the path as an all-around manufacturer of 3D printing.
MUTOH will boldly take on the challenge of creating new values.
MUTOH will
abide by our philosophy of being "in compliance with all pertin ent laws, regulations, and social ethics in and outside Japan, and with conscientious corporate activities, and enhance the group business values, permanently maintain and expand our MUTOH brands, and endeavor to contribute to the healthy development of society". In order to enhance our business productivity and secure steady profi ts, we will st rengthen our bu siness foundation and global expansion of our current business.
MUTOH will
contribute to the creation of new values based on a unique pers pective that only MUTOH can provide through its system/IT solution busi ness that supports the IT "MONOZUKURI", measurement and control equipment business, drafting and design equipment business, and the sports support products business.
MUTOH will continue to create and provide new values and reliance to our customers, and we hope that we will receive their ongoing support as well.